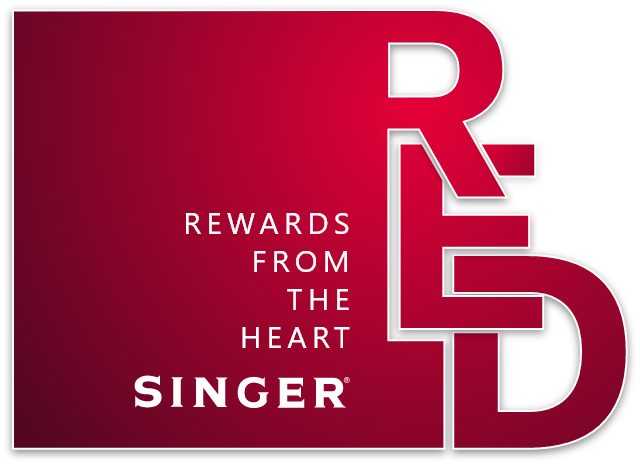 The All New
SINGER RED

Loyalty Program is open for Everyone!

Anyone who makes a purchase at SINGER can earn RED points and be a part of the SINGER RED Loyalty Program. Once you reach 1000 RED points you can start exploring a world of Exclusive Benefits and Personalized Experiences
Deluxe
Loyalty Member
RED points required
1,000 - 2,999

Loyalty Point Earning
Earn 1

RED

point for every Rs.200/- you spend
Exclusive Benefits and Personalized Experiences
| | |
| --- | --- |
| Annual Discount on Singer Products | N/A |
| Special Discount for Birthday Month | 1,000 OFF |
| Seasonal Raffle Draw - April & December | 1 Winning chance per redemption |
| Invitations for New Shop Openings | Available |
| Membership Card | Virtual |
| E-greeting card for New Year/ Christmas | Available |
Premier
Loyalty Member
RED points required
3,000 - 5,999

Loyalty Point Earning
Earn 1

RED

point for every Rs.200/- you spend
Exclusive Benefits and Personalized Experiences
| | |
| --- | --- |
| Annual Discount on Singer Products | 2,500 OFF |
| Special Discount for Birthday Month | 2,500 OFF |
| Seasonal Raffle Draw - April & December | 1 Winning chance per redemption |
| Invitations for New Shop Openings | Available |
| Membership Card | Virtual |
| E-greeting card for New Year/ Christmas | Available |
VIP
Loyalty Member
RED points required
Above 6,000

Loyalty Point Earning
Earn 1

RED

point for every Rs.100/- you spend
Exclusive Benefits and Personalized Experiences
| | |
| --- | --- |
| Annual Discount on Singer Products | 5,000 OFF |
| Special Discount for Birthday Month | 5,000 OFF |
| Seasonal Raffle Draw - April & December | 2 Winning chances per redemption |
| Invitations for New Shop Openings | Available |
| Membership Card | Virtual |
| E-greeting card for New Year/ Christmas | Available |
Frequently asked questions
About The Singer RED Loyalty Program
Can anyone be a part of the SINGER RED Loyalty Program?
Yes. The SINGER RED Loyalty Program is open for everyone. Anyone who makes a purchase at SINGER can earn RED points and be a part of the SINGER RED Loyalty Program. Once you reach 1000 RED points you can start exploring a world of Exclusive Benefits and Personalized Experiences.
Earning Points
How do I earn RED points?
Anyone who makes a purchase at any Singer showroom or at singer.lk can earn RED points for every purchase made. RED points can be earned for both Cash and Hire purchase sales.

In addition, you can also earn RED points when paying utility and credit card bills through Singer Express Pay Counters.
Can I earn RED points for Hire Purchase sales?
Yes. You can earn 1
RED
point for every Rs.100/-. This is applicable for all the tiers.
How can I earn more RED points?
It's simple. The more you purchase the more points you accumulate.
How often do my RED points expire?
RED points are valid for 3 years from the date of the transaction.
How will I know when my points will expire?
SMS reminders will be sent in the month of points expiry.
Can I transfer my RED points to a friend?
No. It's not possible to transfer your RED points to someone else.
How do I check my points balance?
You can simply check your RED points balance by producing your NIC number at any of our Singer showrooms island wide. The RED points balance will also be displayed at the checkout of any transaction made via singer.lk.

In addition, you will also be notified via SMS at the end of every purchase you make at Singer showrooms.
Redeeming Points/ Discounts
How do I redeem RED points?
Redeeming is easy. You can simply redeem your RED points at any Singer Plus or Mega Showroom island wide by providing the OTP you receive to your mobile when you make a purchase.

You can also redeem your RED points when you make a purchase at singer.lk. Simply click on Redeem Now button at the checkout (Available Soon).
Should I have a minimum RED point balance?
No. It's not requited to have a minimum points balance. You can redeem your entire RED points against a new appliance purchase.
How can I redeem the Annual Discount?
The annual discount will be valid for purchases made at Singer. The Annual Discount will be rewarded to the loyalty member as RED points in the month of January each year. The member can redeem the RED points to make any purchase at Singer throughout the year. The RED points awarded for the Annual discount will be valid only for 1 Year and will automatically expire by 31st December of every year.
How can I redeem the Birthday Discount?
Birthday discount will be rewarded to the loyalty member as RED loyalty points on the 1st day of the birthday month. The RED points awarded for the birthday will be valid only during the birthday month and will automatically expire at the end of the birthday month. (subject to the loyalty member having provided the birthday details prior)